10+ Classic Thanksgiving Pies
Nothing is better for Thanksgiving dessert than pie! We have 10+ easy Thanksgiving pies from classic pecan to pumpkin pie that are sure to impress your guests!
I don't know about you guys but I've been planning my Thanksgiving menu for weeks now. This year we're making pecan pie and chocolate chess pie because no southern Thanksgiving menu would be complete without them!
Pies on Thanksgiving are a traditional dessert option and there are so many to choose from. Pumpkin, apple, pecan, even a chocolate or coconut cream pie.
We've rounded up the best Thanksgiving pie recipes for you to make your holiday menu planning a little easier! Make 1, 2 or 3 and enjoy them with family over the holiday weekend.
Note: This post may contain affiliate links. That means if you click on a link and make a purchase we may receive a small commission. Thank you!
Southern Pecan Pie
This easy Southern pecan pie recipe is a classic dessert that anyone can make! A simple ooey gooey filling packed with pecans is baked into a pie crust for the perfect holiday dessert every time. Ingredients:
Check out this recipe
Sweet Potato Pie
Sweet potato pie is the southern alternative to pumpkin pie that you must try. This traditional Thanksgiving pie recipe will complete your holiday dinner!
Check out this recipe
Looking for More Thanksgiving Recipes? Check out our Thanksgiving menu for 4-6 people.
Chocolate Chess Pie
Chocolate Chess Pie is a classic southern pie recipe made with just a few simple ingredients that bake up into a rich, delicious chocolate dessert that is perfect for the holidays!
Check out this recipe
Lemon Chess Pie
Lemon Chess Pie is an easy and delicious southern dessert you won't soon forget. The filling is similar to lemon custard, while the crust is flaky and baked to perfection. This simple lemon pie is ideal for all occasions!
Check out this recipe
Banana Fluffernutter Pie
This 11″ fluffernutter pie is a mix of peanut butter and marshmallow fluff topped with fresh bananas, and chocolate and caramel drizzle.
Check out this recipe
Pumpkin Pie
The one and only pumpkin pie! EAGLE BRAND makes this traditional dessert the perfect ending to a Thanksgiving feast. Garnish as desired. Refrigerate leftovers.
Check out this recipe
Coconut Cream Pie
This is one of my favorite easy coconut cream pies with a light, fluffy, creamy texture and an amazing coconut flavor. This is a perfect cream pie that you can make for the holidays in any season of the year.
Check out this recipe
Apple Pie
This is, hands down, my favorite apple pie recipe made from scratch! Juicy apple slices are coated in sugar and spices and then baked to perfection inside a tender, flaky homemade pie crust.
Check out this recipe
Homemade Cherry Pie – Love and Lemons
Learn how to make a cherry pie! This recipe features a homemade cherry pie filling inside a flaky, buttery crust. It's easy and delicious!
Check out this recipe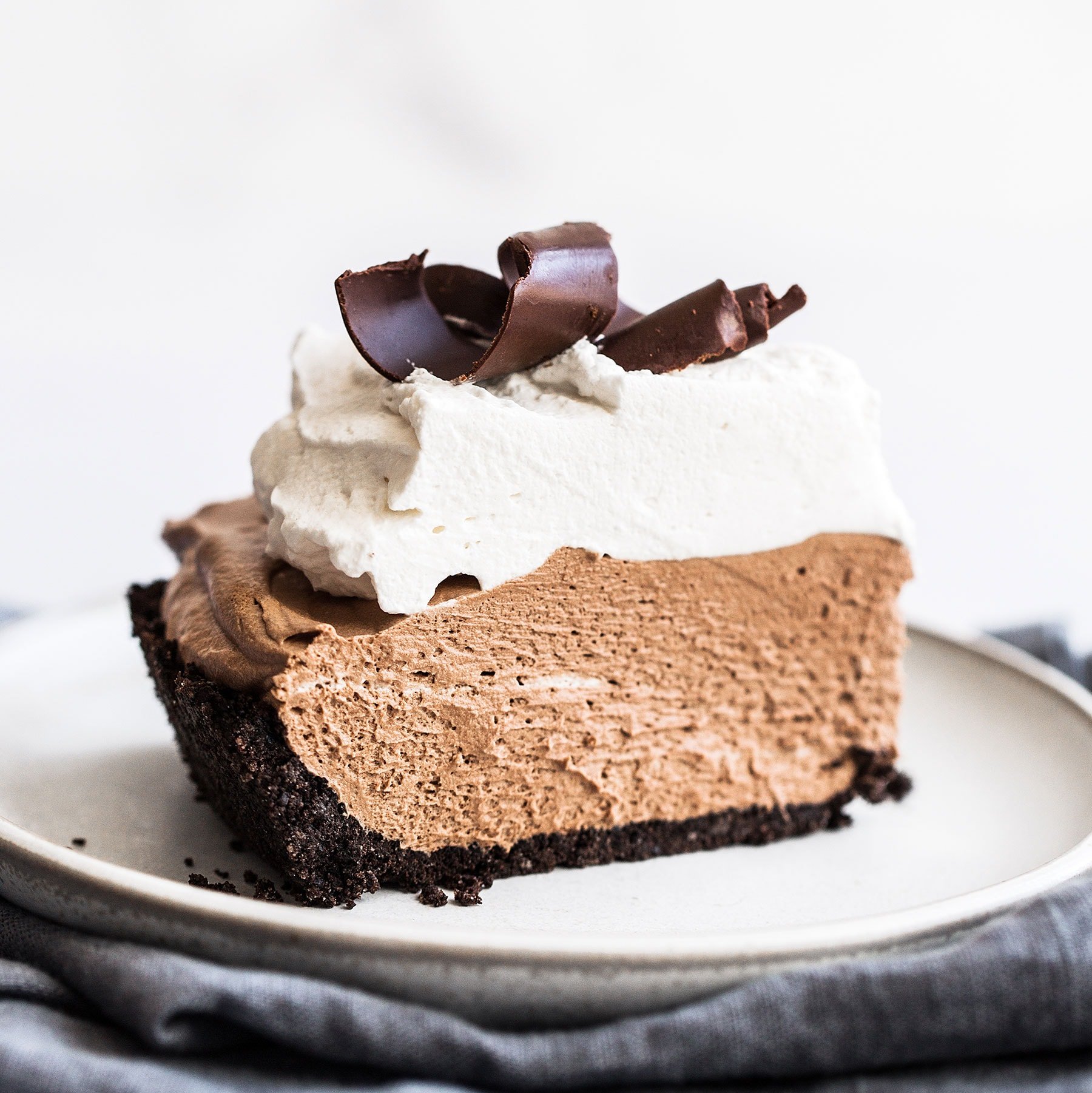 French Chocolate Silk Pie Recipe – Handle the Heat
French Silk Pie features an Oreo cookie crust, rich and creamy chocolate filling, and is topped with homemade whipped cream and chocolate shavings! No raw eggs. Perfect holiday recipe!
Check out this recipe