10+ Thanksgiving Leftover Recipes
These Thanksgiving leftover recipes take all of that delicious food you made for the holidays and turns it into a whole new meal. No more getting bored with leftovers!
Are you looking forward to Thanksgiving dinner? Stuffing, mashed potatoes, cranberry sauce, and of course turkey! I don't know about you but I can't wait to have a helping of each :).
Once dinner is over the question becomes what to do with all of the leftovers? These easy recipes takes your Thanksgiving leftovers and turns them into a completely new meal. Sandwiches, sliders, casseroles, and appetizer. Delicious ways to use up all of your holiday leftovers.
Note: This post may contain affiliate links. That means if you click on a link and make a purchase we may receive a small commission. Thank you!
Thanksgiving Leftovers Sandwich
Check out this recipe
Turkey Shepherd's Pie
This Turkey Shepherd's Pie is an easy casserole for a cold winter night.
Check out this recipe
Turkey with Marsala Sauce
This Turkey with homemade marsala sauce turns your holiday leftovers into an Italian inspired entree that is perfect for any day of the week.
Check out this recipe
Gooey Gobbler
The Gooey Gobbler is a grilled cheese sandwich piled high with roast turkey, smoked gouda and cranberry sauce. It's a fall grilled cheese recipe that is perfect for using up those Thanksgiving leftovers!
Check out this recipe
Turkey and Cranberry Panini
This easy turkey panini is a hot, toasted sandwich made with tender, juicy, turkey, creamy brie cheese, and sweet and spicy cranberry salsa.
Check out this recipe
Stuffing Balls with Sausage
Sausage Stuffing Balls are an easy appetizer with all of the flavors of the holidays. Cheese, sausage, bacon, and stuffing are rolled together for one perfect bite!
Check out this recipe
Thanksgiving Leftovers Sliders
One of the best ways to use Thanksgiving leftovers! Thanksgiving Leftovers Sliders are everything you love about Thanksgiving in one bite.
Check out this recipe
One Pot Turkey and Rice
This One Pot Turkey and Rice is ready in less than 30 minutes and filled with everything you need for a complete meal, meat, vegetables, and rice!

Check out this recipe
Mashed Potato, Cheddar and Chive Waffles
What am I going to do with all of these leftover mashed potatoes (said no one ever!)? Make waffles! How is there a solution to a problem that isn't really
Check out this recipe
Turkey Parmesan Baked Rotini – our most popular leftover turkey recipe!
This Turkey Parmesan Baked Rotini is our most popular leftover turkey recipe to date on Rock Recipes & for very good reason. Leftovers never tasted so good.
Check out this recipe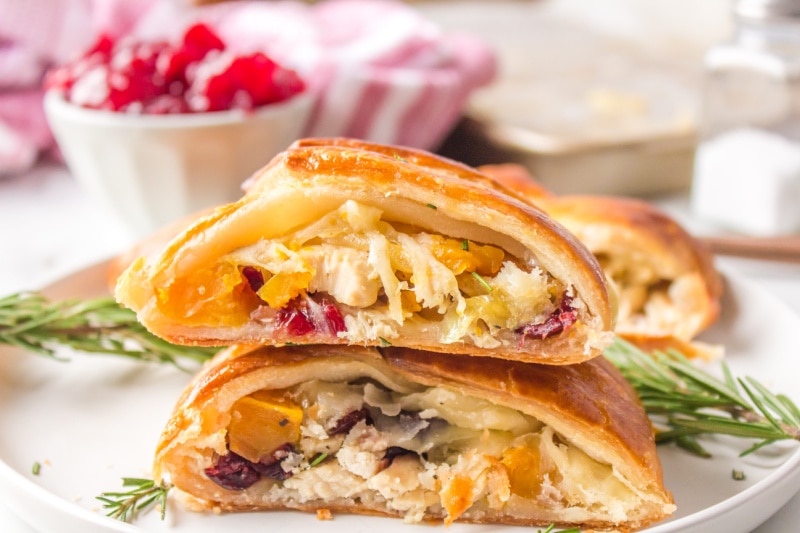 Turkey Cranberry Strudel
Fabulous meal made with leftover Thanksgiving ingredients!
Check out this recipe
How to Store Leftovers
This year I'm thinking ahead and bringing my Tupperware with me so I can load up on leftovers!
In general leftovers can be safely stored in an airtight container in the refrigerator for 3-4 days. If you don't think you will be able to eat your leftovers within that time you can freezer them for up to 6 months.