10+ Deviled Egg Recipes You Have to Try
These are some of the BEST deviled eggs recipes you'll ever make. From spicy deviled eggs to deviled eggs with pickle relish we have something for everyone.
Deviled eggs, or stuffed eggs, are a classic appetizer. Hard boiled eggs have their yolks turned into a delicious, creamy filling that is piped back into them for the perfect bite!
The best part is you can customize your deviled eggs with all different add-ins. Add some hot sauce or deviled ham for spicy deviled eggs, or top with some bacon and chives. The combinations are limitless.
Make them for Easter dinner, brunch, summer BBQs and potlucks, or pretty much any party throughout the year.
Depending on what you add to it deviled eggs are also a great keto appetizer!
Note: This post may contain affiliate links. That means if you click on a link and make a purchase we may receive a small commission. Thank you!
Southern Deviled Eggs Recipe
This is the BEST Classic Deviled Eggs recipe with relish, mustard, mayonnaise, and a little paprika on top. A great addition to Easter dinner and summer potlucks!
Check out this recipe
Deviled Ham Stuffed Eggs
Deviled ham stuffed eggs take the classic stuffed egg recipe and takes it up a notch with the addition of spicy deviled ham.
Check out this recipe
Mississippi Sin Deviled Eggs
These Mississippi Sin Deviled Eggs turn a classic southern dip into one amazing deviled egg recipe! Creamy egg yolks, ham, and cheese make these deviled eggs an Easter appetizer or summer potluck recipe you don't want to miss!
Check out this recipe
Shrimp Cocktail Deviled Eggs
Shrimp cocktail deviled eggs put a delicious spin on a classic recipe. An amazing appetizer that will impress your guests at any gathering.
Check out this recipe
Crab Deviled Eggs
Crab deviled eggs is a cheap appetizer with seafood everyone loves. Use imitation crab, fresh or canned for this favorite egg snack.
Check out this recipe
Bacon Sriracha Avocado Deviled Eggs
These spicy deviled eggs are a tasty twist on a classic with the zing of Sriracha, the velvety smoothness of avocado, and the saltiness of bacon. Sriracha Bacon and Avocado deviled eggs are low carb and gluten free and make a great party appetizer and Easter dinner and Easter brunch recipe!
Check out this recipe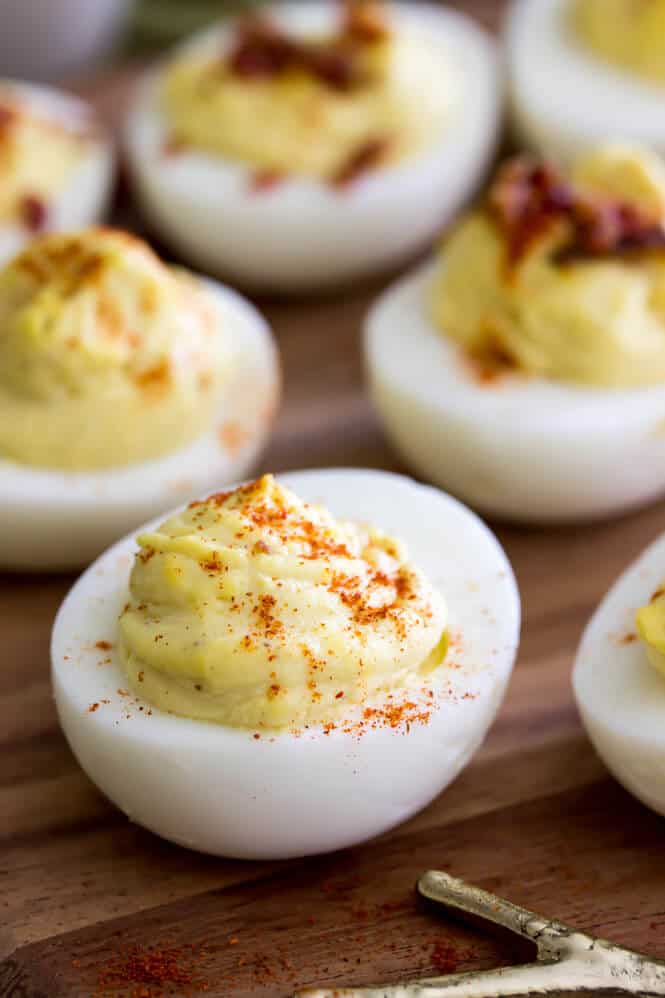 Million Dollar Deviled Eggs
There are deviled eggs, and then there are these Million Dollar Deviled Eggs — the best recipe that includes a secret ingredient! Recipe includes a video!
Check out this recipe
Easter Colored Deviled Eggs
Colored deviled eggs are a fun egg appetizer to serve at Easter time or a Spring party. They taste the same but are SO much more fun to eat.
Check out this recipe
Spicy Sriracha Deviled Eggs
Spicy deviled Eggs with Sriracha. Assorted toppings make them an EASY and festive appetizer for your holiday party. Only 45 calories each and 0 grams carbs.
Check out this recipe
Not Just for Easter!
Deviled eggs aren't just for Easter they are a great party food all year round especially if you are are serving keto friends and family. We've got St. Patrick's Day and Halloween deviled eggs that are perfect for serving at holiday parties.
Irish Deviled Eggs
This deviled egg recipe is a fun twist on the classic St. Patrick's Day recipe corned beef and cabbage.
Check out this recipe
Keto Halloween Deviled Eggs
These easy Keto Halloween Deviled Eggs are the perfect Halloween party treat for all of your low carb friends.
Check out this recipe